Home Decor from Wreaths to Topiaries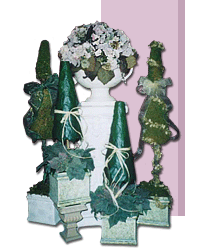 For all the elements of a uniquely decorated home evoking classic southern charm and elegance: your selections from our website of meticulous, hand-crafted wreaths, swags, centerpieces and topiaries will complete any room in your home. We have come to understand what designs to offer to you, our valued-customer, to become your one-stop source for the casual, elegant home.

Peruse our website pages to find the right design accents for your décor. Our treasure-trove of designs range in style, shape and size. We offer an eclectic selection of table-top and floor topiaries from silks to dried moss. If a wreath is what you are looking for, please see our wreaths page and choose from an array of different seasonal styles. And if you are looking for the perfect finishing touch to any room; choose an item from our accent designs, sconces and swags or centerpiece pages in florals, fruits or silks.

Pride of the Easter Bunny Wreath as seen on the TODAY SHOW

All of our accent designs are custom made by hand using the finest décor materials at Southern-Charmz. We are constantly revising our Southern-Charmz inventory to reflect consumer demand and trending. In addition, we have become a valued resource for customers with specific design needs. If you have an accent design need with a specific color and/or materials, please fill out our special orders page to let us know exactly what you envision.

We are located in the historic, small town of Morrisville, North Carolina. Being in a small town between the world famous Research Triangle Park and the Raleigh State Capital allows for the best of both worlds. It is this one-of-a kind atmosphere that allows us to stay current with the ever-changing design trends while retaining our small town 'southern charm'.
south·ern Pronunciation Key (sthrn) adj.--- Coming from the south.
charms Pronunciation Key (chärm) n. --- Particular qualities that attract; delightful characteristics.

Our name epitomizes our essence; we are proud to offer you designer products that exhibit the attractive qualities from the south!
(You don't need an account. Pay securely using your credit card.)