Sophisticated Summer Grasses and Clustered Hydrangea Tiered Centerpiece
Our Sophisticated Summer Grasses and Clustered Hydrangea Tiered Silk Floral Centerpiece enchants the eyes with a glorious display of sweeping seasonal grasses and captivating hydrangea blossoms. This seasonal summer grass centerpiece imbues many unique floral expressions; the core of this uniqueness of this silk floral centerpiece is the multi-tiered corporate floral design. The striking allure of this large silk flower centerpiece is the juxtaposition of delicate silk hydrangea clusters against bushy, verdant blades of seasonal grasses and hydrangea foliage culminating in a magnificent layered artificial flower centerpiece decoration. The layered corporate floral design tier of silk hydrangeas and grasses presents just the right creative center piece mix of botanical ambience, mimicking outdoor floral designs so prevalent during the spring and summer in our beloved south. In addition to the unique floral expressions of this lush silk floral centerpiece, the canopy of green at the crown of this grass centerpiece arrangement imparts a much desired serenity to any room or focal point. This artificial flower centerpiece creates a stunning corporate floral design statement that effortlessly transitions as creative center pieces for: office flower centerpieces, wedding floral arrangements, romantic home décor and special event floral centerpieces. The base of this silk hydrangea centerpiece is a classical urn with painted in a tromp l'oeil manner to create a moss patina and once we incorporate our large silk floral arrangement, our Sophisticated Summer Grasses and Clustered Hydrangea Tiered Centerpiece decoration stands over an impressive 30 inches tall. This unique centerpiece is one of our most dramatic southern design accent centerpieces and it was expressly created and donated to help raise awareness for a worthwhile animal charity in Illinois. Treat yourself to this stately summer floral centerpiece or take advantage of our pair pricing to purchase an impressive twosome for a guaranteed eye-catching floral design arrangement. Also, be sure to shop our entire collection of centerpieces and topiary accent pieces for that perfect 'charmed' addition to your home interior!
(You don't need an account. Pay securely using your credit card.)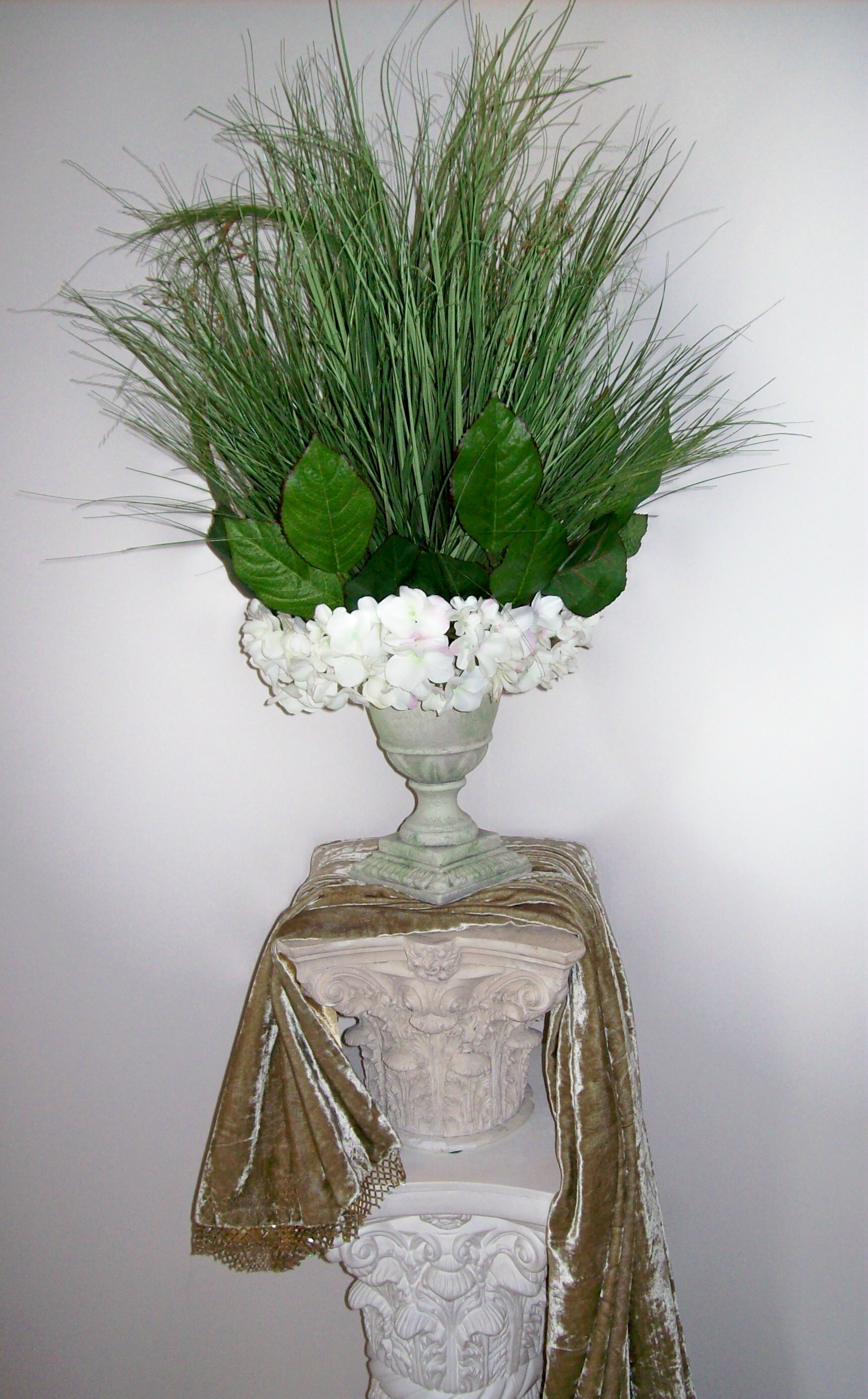 Click on image for a detailed view.
Size: 30 in H, 23 in W (widest part)
$144.99 + s/h
OR
Purchase Two and Save:
$274.99 + s/h